It appears that sellers may have largely disappeared when bitcoin fell to $17,500 after the CeFi collapse. According to Glassnode, hodlers are still there, although no significant new demand has returned as yet.
As bitcoin continues its attempt to reverse the downward trend and get back to the $30,000 resistance, most retail investors are still sat on the sidelines as the fear of yet another price plunge keeps them there.
Glassnode, the on-chain metrics analysis website, published its weekly newsletter on 1 August, in which it asked the question as to whether bitcoin was just in a bear market relief rally, or whether this was the beginning of a more sustained trend reversal.
After the FOMC meeting markets responded positively as the expected 75 basis points rate rise came in, and chairman Powell talked with a far more dovish tone.
All this set the scene for bitcoin and the rest of the cryptocurrency market to rally again to the upside. However, according to Glassnode, "bitcoin active addresses remain firmly within a well-defined downtrend channel."
Source: Glassnode
The on-chain analyst agrees that only the high-conviction hodlers remain, and backs this summation up with a chart containing the transactional demand, pointing out that it has traded sideways and downwards.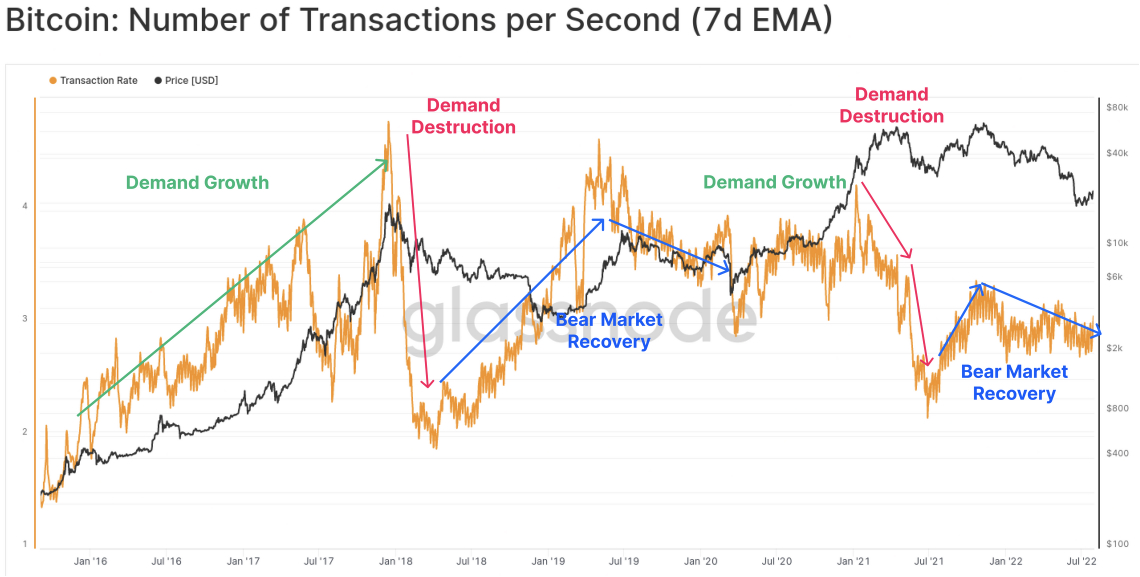 Source: Glassnode
Fee rates that are going up for bitcoin is another sign that a recovery is firmly under way. Currently, these are historically low, with only 13.4 BTC paid in fees per day. Glassnode suggests that on-chain transaction fees breaking back above 35 BTC/day would be a good signal of recovery.
Source: Glassnode
Finally, it is worth mentioning that Glassnode commented positively on the Bitcoin Lightning Network. It noted that public capacity on the network continued to print all-time-highs, reaching 4,405 BTC. An increase of 19% over the last two months despite the bearish market situation. It was suggested that this measure was a good one for gauging expanding network effects.
Disclaimer: This article is provided for informational purposes only. It is not offered or intended to be used as legal, tax, investment, financial, or other advice.
This post was originally published here.